We're delighted to be partnering with Andréa's Protein Cakery, run by Andréa Marchese. Her delicious cake, cookie and frosting mixes are the perfect addition to a flexible dieting lifestyle – we all know that cake by itself doesn't stop you losing weight, but sometimes you want a sweet treat without wiping out your calorie budget for the day. That's where Andréa comes in. Not only are her products high protein and low calorie, but they're also all-natural, gluten-free, and free from refined sugars. They offer egg-free options, and use lecithin-free protein powders so the products are soy-free, as well!
Andrea will be writing regularly for our blog and sharing some of her incredible recipes for you. Here's a seasonal favorite of ours – Pumpkin Pie Protein Cupcakes!
~ Lawrence
Instructions:
Prepare the cookies:
Preheat the oven to 325F.
Start by preparing the Snickerdoodle Protein Cookie Mix as directed on the package (dairy butter or nut butter option).
Roll or press out the cookie dough so that you'll be able to cut 20 cookies, or separate the dough into 20 pieces. If rolling, roll the cookie dough between sheets of parchment to keep it from sticking to the rolling pin. Refrigerate for 10 minutes before using the cookie cutters for easier cutting. Otherwise roll each piece of cookie dough into a ball and flatten to thin discs.
Place cookies on a parchment-lined cookie sheet and bake at 325F for 4-5 minutes, just until they no longer appear wet.
Let the cookies cool on a wire rack.
Prepare the mini cupcakes:
Line a mini cupcake pan with paper liners.
Prepare the Cinnamon Spice Protein Cake Mix with 4 tablespoons water and 180g canned pumpkin. Mix well.
Spoon cake batter into the cupcake liners, or use a piping bag (or ziplock bag) for easy filling.
Bake mini cupcakes for about 12 minutes, or until firm to the touch. Let cool.
Prepare the whipped cream:
Once cupcakes have fully cooled, begin to prepare the whipped cream by mixing the frosting mix with 1/2 cup heavy cream. Let sit for 5 minutes to fully hydrate the mix.
Whip the cream with an electric mixer until stiff peaks have formed.
Pipe or spoon a drop of whipped cream on each cupcake (to help keep the cookies in place) and top each with a cookie.
Pipe or dollop the whip cream on top, and enjoy!
Store extras in the refrigerator.
Notes: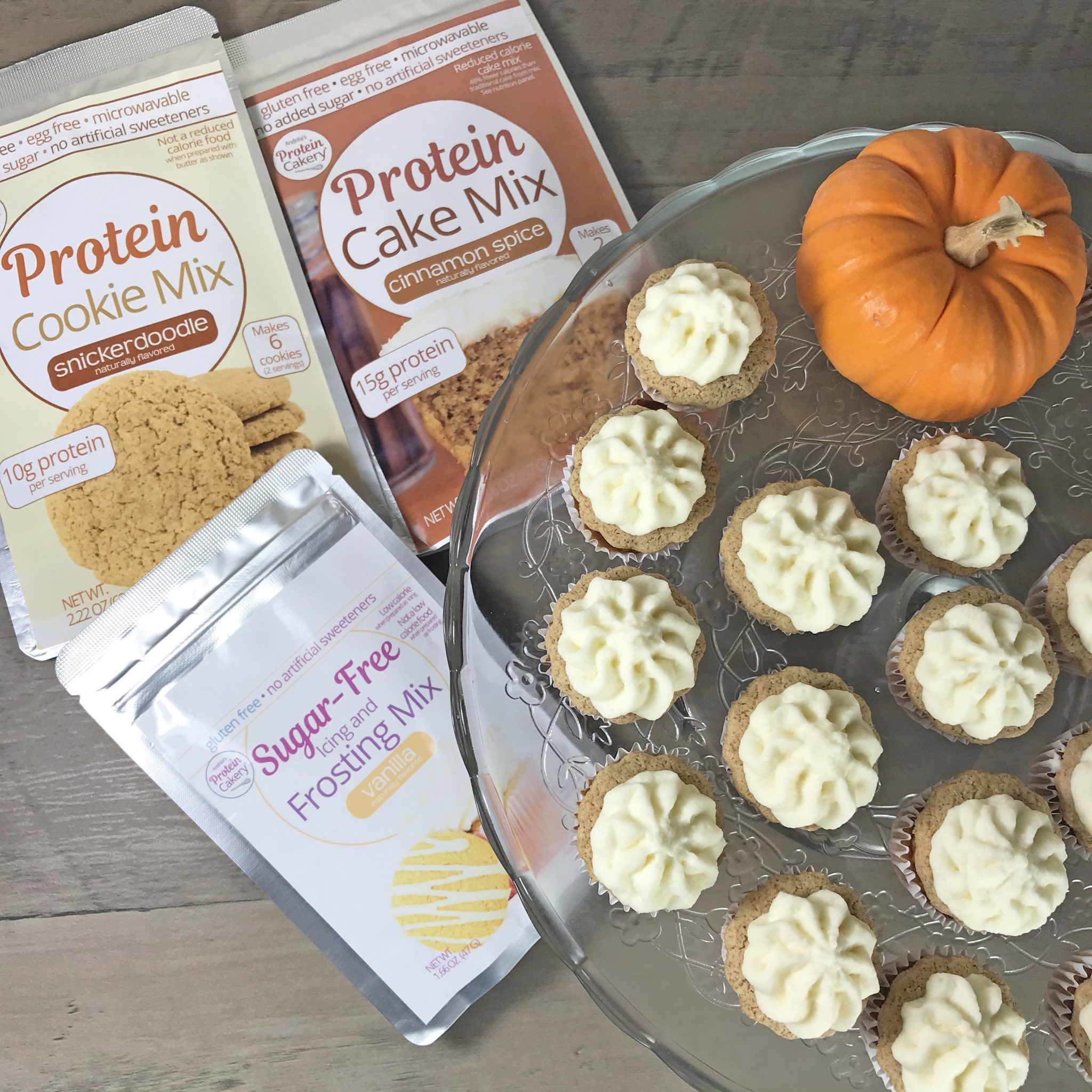 The cake batter can also be made into 4 regular sized cupcakes. Bake them for 24 minutes at 325F.
Since we are doubling the amount of pumpkin used to prepare the cake mix, the cupcake itself isn't very sweet. The frosting makes up for it here, but if you are omitting the frosting, you may want to add a bit of sweetener to the cake batter.
Instead of whipped cream, try our recipe for Sugar-Free Cream Cheese Frosting using the same vanilla frosting mix.
For more recipe ideas with Andréa's Protein Cakery mixes, click
here!