In this article, we're bringing you fifteen quick and easy macro friendly lunch recipes to help you maintain a balanced diet without sacrificing taste or convenience. These meals are perfect for anyone who wants to eat healthy and delicious food whilst hitting their fat, carb and protein targets.
So, whether you're a busy professional or a student, get ready to take your lunch game to the next level with these mouthwatering options.
And if you're looking for macro-friendly recipes for breakfast, dinner and dessert options too, check out our free cookbook.
Introducing our delicious and healthy Protein Packed Tuna Melt Sandwich – a satisfying and easy-to-make lunch option that's perfect for those who are watching their macros.
This sandwich is loaded with high-quality protein from canned tuna, mixed with a creamy Greek yogurt, finely minced red onion, and finely chopped celery for a delicious filling.
Add some sharp cheddar cheese on top and season with salt and pepper to taste and you've got the perfect macro-friendly lunch.
Tuna Melt Sandwich Macros
Calories: 347, Fat: 11g, Carbs: 30g, Protein: 32g
Ingredients
112g canned tuna (in water,
drained)
15g red onion, finely minced
30g nonfat plain Greek yogurt
15g celery, finely chopped
Salt & pepper to taste
2 slices of white bread (70cal
per slice)
1 slice Extra Sharp Cheddar
cheese
Method
In a bowl mix tuna, red onion,
greek yogurt and celery.
Season with salt and pepper.

Top 1 slice of toasted bread
with cheese and microwave
for 5-10 seconds until lightly
melted.
Spread tuna mixture on other
slice of bread and top with
slices with melted cheese.
You can also add other fillings
such as lettuce and tomato
For a protein-packed lunch time energy boost, try our Better Than Takeout Tuna Poke Bowl. A healthy and flavorful lunch option featuring sushi-grade raw tuna marinated in sesame oil and liquid aminos or light soy sauce.
Served over cooked white rice and topped with diced cucumber, sliced or diced avocado, and edamame, this protein-packed dish is finished with a tangy and spicy sauce made with Greek yogurt, sriracha, and garlic powder.
With a perfect balance of healthy fats, complex carbs, and high-quality protein, this tuna poke bowl is a satisfying and macro-friendly lunch that's sure to leave you feeling energized for the rest of your day.
Tuna Poke Bowl Macros
Calories, 485, Fat 17g, Carbs 43g, Protein 40g
Ingredients
75g sushi-grade raw tuna
3 mL Sesame Oil
20 mL Liquid aminos or light
soy sauce
3g Ginger paste (optional)
100g cooked white rice
50g Cucumber, diced
50g Avocado, sliced or diced
50g Edamame, thawed and
refrigerated
20g Greek yogurt
10g Sriracha
Garlic powder
Method
Cut tuna into cubes and
lightly toss in sesame oil,
liquid aminos, and ginger
paste.
In a bowl place cooked white
rice and top with tuna,
cucumber, avocado, and
edamame.
In a separate bowl mix greek
yogurt, 10g siracha, garlic
powder, and salt and pepper.
This is your spicy mayo.
Drizzle over poke bowl and
enjoy.
Spicy mayo can be made ahead
of time and is a great dressing for
salads and sides.
---


---
Looking for a macro-friendly lunch option that hits the spot? Try our mini pepperoni pizzas, featuring a crispy English muffin base topped with pizza sauce, part-skim mozzarella cheese, dried oregano, and turkey pepperoni.
At just 100 calories per muffin, these pizzas are loaded with protein and healthy fats, making them a great option for those looking to stay on track with their macros.
Mini Pepperoni Pizza Macros
Per pizza: Calories 107, Fat 3g, Carbs 13g, Protein 7g
Ingredients
2 "100-calorie" English muffins
60g pizza sauce
40g part-skim shredded
mozzarella
Dried oregano (a must for
pizza flavor)
6 slices Turkey pepperoni
Method
Cut English Muffins in half so
you have 4 pizza bases.
Add toppings in order – pizza
sauce, cheese, dried oregano,
turkey pepperoni.
Bake for 5-8 minutes or until
lightly golden at 375.
You can experiment with
different toppings and different
cheeses to create your own
unique mini pizzas.
Looking for a super simple and macro-friendly lunch option? Our Rotisserie Chicken Salad is packed with protein and bursting with fresh flavors.
Featuring salad greens, strawberries, blueberries, goat cheese, and chopped chicken, this lunch offers the perfect balance of protein, healthy fats, and complex carbs to keep you feeling satisfied and energized for the rest of your day.
Chicken Salad Macros
Calories 470, Fat 22g, Carbs 47g, Protein 21g
Ingredients
60g salad greens
5g balsamic vinegar
60g strawberries
30g blueberries
35g goat cheese
125g chopped rotisserie
chicken (or cooked chicken
breast)
30g plain nonfat Greek yogurt
15g red onion
15g balsamic glaze
Method
In a large bowl toss salad
greens in balsamic vinegar.
Add strawberries, blueberries,
and goat cheese and lightly
toss again.
In a separate bowl add greek
yogurt and red onion to the
chicken and mix well.
Top salad with chicken mix
and finish with a drizzle of
balsamic vinegar.
This will keep for up to 48 hours
in a refrigerator. For a lower
calorie option switch rotisserie
chicken for plain skinless
chicken breast.
Our Low-Carb Tzatziki Chicken bowl features warm, pulled rotisserie chicken, paired with juicy cherry tomatoes and crisp cucumber slices for the perfect macro-friendly lunch.
We've added some reduced-fat feta cheese for a tangy kick, along with a generous dollop of tzatziki sauce. To finish it off, we've sprinkled some dried dill, salt, and pepper for a burst of flavor.
With its low carb count and high protein content, this bowl makes the perfect macro friendly lunch to keep you feeling full and satisfied all afternoon.
Tzatziki Chicken Bowl Macros
Calories 387, Fat 19g, Carbs 16g, Protein 38g
Ingredients
100g rotisserie chicken, pulled
apart while warm
35g reduced-fat feta cheese
100g cherry tomatoes, cut in
half lengthwise
150g cucumber, sliced and cut
into half-circles
50g tzatziki
Dried dill (liberally)
Salt and pepper
Method
In a large bowl toss
cucumber and tomato with
tzatziki.
Add cold chicken and feta
cheese and mix well.
Add a liberal helping of dried
dill and mix.
Add salt and pepper to taste.
This can be eaten alone or served
in pita bread, wrap, or a side of
choice.
This mixture will keep for up to 3
days in the refrigerator.
Try our Tuna Grain Bowl for a macro friendly lunch option that's easy to make and packed with protein!
This dish features two cans of tuna in oil mixed with pre-cooked rice, sliced red bell pepper, chickpeas, black olives, and capers. We've added a zesty twist with some lemon juice and caper brine for a burst of flavor.
This bowl provides a healthy balance of complex carbs and protein, helping you stay full and satisfied throughout the day. Plus, it's a breeze to prepare using pre-cooked rice.
Tuna Grain Bowl Macros
Calories 392, Fat 12g, Carbs 48g, Protein 23g
Ingredients
2 cans canned tuna in oil,
drained (approx. 239g) –
reserve the oil liquid
90-second pre-cooked rice
(approx. 450g)
500g red bell pepper
1 can chickpeas, drained
(approx 250g)
40g sliced black olives
2 tbsp drained capers
1 tbsp caper brine
½ lemon, juiced
Method
In a large bowl add tuna,
cooked rice, and red pepper
and mix well.
Add chickpeas, black olives,
and drained capers and mix
again.
Add caper brine, lemon juice,
and approximately half a
tablespoon of oil for tuna and
toss well.
This is a great make-ahead
recipe and will keep for up to 3
days in the refrigerator. Our
macros are based on a 300g
serving.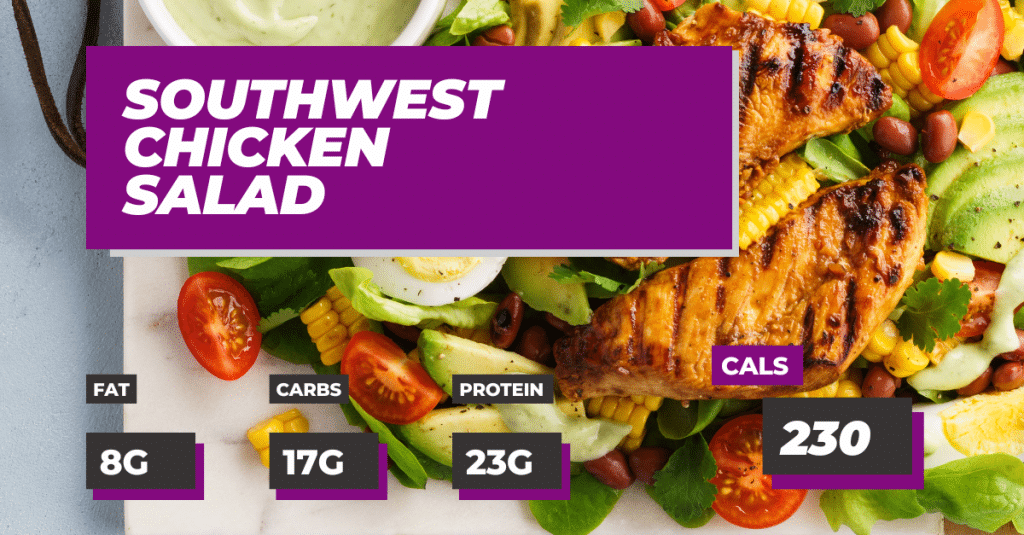 Try our colorful Southwest Chicken Salad for a mouth-watering, fresh, and quick protein-packed lunch option. Succulent grilled chicken on a bed of crisp romaine lettuce with fresh corn, black beans, juicy tomatoes, and strips of crisp tortilla topped with a creamy cilantro dressing.
Southwest Chicken Salad Macros
Calories 230, Fat 8g, Carbs 17g, Protein 23g
Ingredients
85g romaine
84g chicken breast (grilled)
1/8c (30g) corn
1/8c (30g) black beans
25g tomato – 25g diced onion
7g tortilla strips
30g Creamy Cilantro dressing (Bolthouse brand)
Method
It's a super easy salad. Mix together, eat, and enjoy!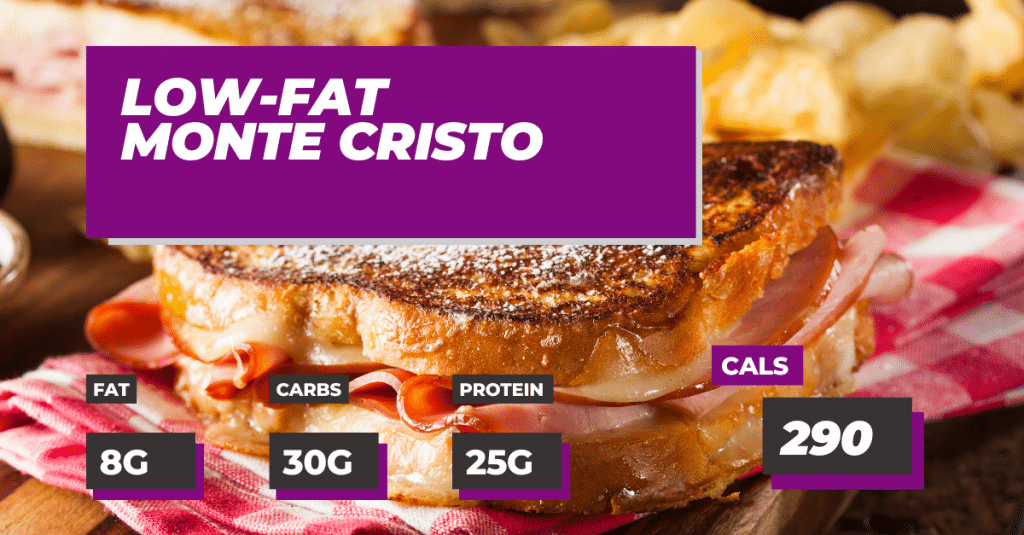 Our low-fat take on the Monte Cristo sandwich is the ideal lunch option if you are craving something slightly sweet but savory, and extremely delicious! This sandwich is next-level and won't derail your macros.
Low-Fat Monte Cristo Macros
Calories 290, Fat 8g, Carbs 30g, Protein 25g
Ingredients
2 slices low cal bread (Sara Lee Delightful used)
1 wedge Laughing Cow cheese
1 tbsp sugar-free jam
5g light Mayo
5g dijon mustard
56g sliced ham
1 egg
Method
Spread the cheese on one slice of bread, then spread the mayo and mustard over it.
Spread the jam on the other slice.
In a skillet, cook the ham for a min or so on each side, just until slightly crisp. Put the meat on the bread and assemble the sandwich.
In a shallow bowl, beat the egg and put the sandwich in. Coat both sides in egg.
Fry the sandwich until golden and crisp.
*Optional: dust with powdered sugar and serve with syrup for dipping. (not included in Calories)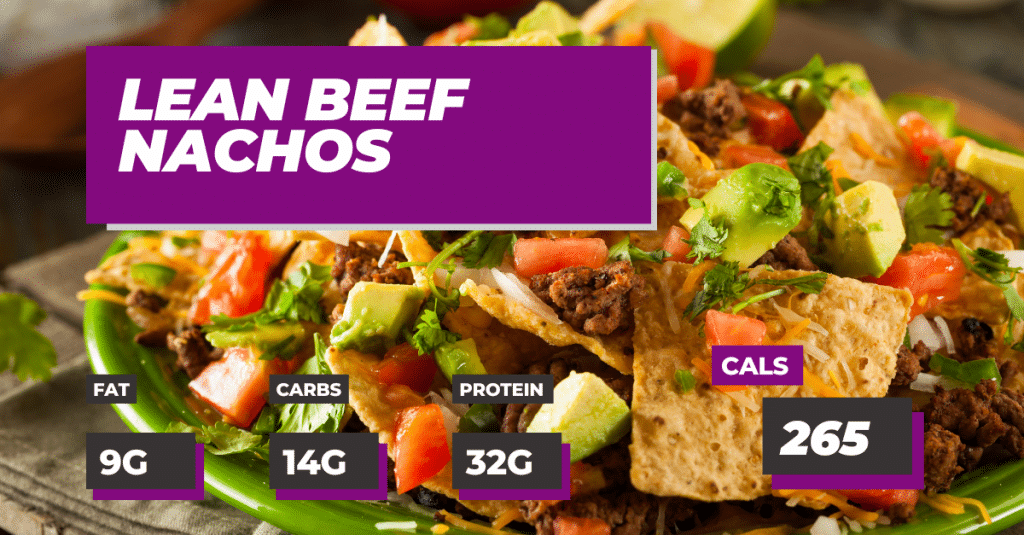 Try our macro-friendly, high-protein Lean Beef Nachos. Oven-baked, crisp, and fiber-rich tortilla chips topped with Taco seasoned lean minced beef for protein, and a healthy topping of your choice for added macros – lunch with friends and family has never been easier!
Lean Beef Nachos
Calories 265, Fat 9g, Carbs 14g, Protein 32g
Ingredients
1 Flatout wrap or Joseph's Lavash Bread
Olive oil spray
Taco seasoning
113g lean ground beef (93/7)
Taco seasoning
Splash of broth
Method
For the fiber tortilla chips:
Preheat oven to 375°F (190°C). Lightly spray both sides of the wrap, then slice into small triangles.
Sprinkle taco seasoning and bake for ~ 5-7 mins or JUST until crisp. They go from done to charred quickly, so keep an eye on them.
For the meat:
Season the ground beef and brown it.
Add a little bit of broth and let it simmer for ~ 10 mins to soak up the juice.
Topping ideas (Calories not included):
QUESO – the jarred stuff is surprisingly macro-friendly! Trader Joe's brand is 3c 0f 0p!
Guacamole, salsa, pico de gallo, sour cream, shredded lettuce
Cauliflower rice, beans


---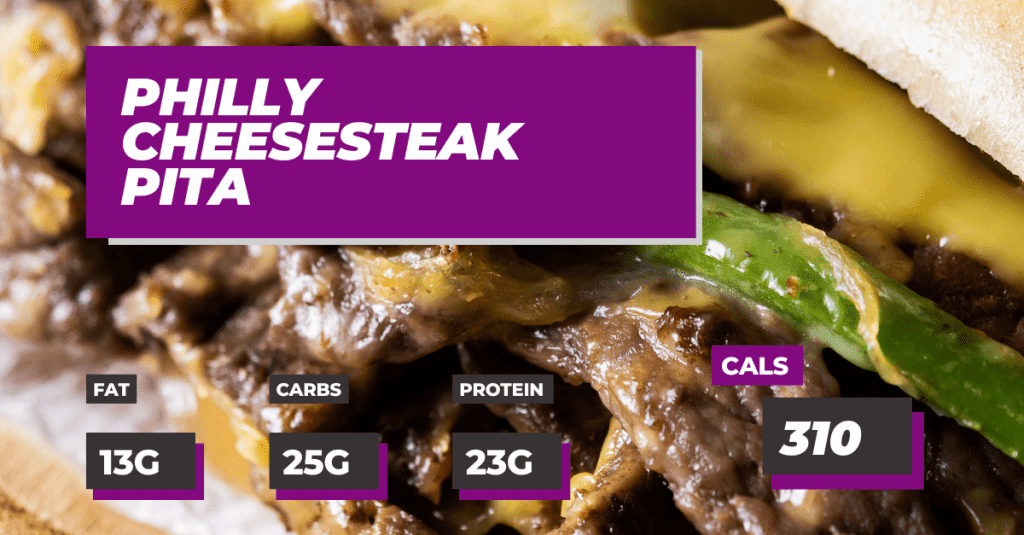 It looks good doesn't it? Deli-sliced roast beef with sautéed green bell peppers or onions, drizzled with a light provolone cheese sauce and stuffed into a wholemeal pita, this tasty recipe feels like a real treat without compromising your macros.
Philly Cheesesteak Pita
Calories 310, Fat 13g, Carbs 25g, Protein 23g
Ingredients
1 pita pocket (Orowheat brand used)
56g deli sliced roast beef
25g green bell pepper/onions
1 slice of provolone
1/2 tbsp (7g) light butter
Method
In a skillet, sauté the peppers and onions until browned (you can add a splash of broth to the pan for some flavor and moisture).
Add in the sliced meat until browned slightly.
For the cheese sauce, melt together the cheese and butter.
Pour the cheese sauce over the meat and peppers, and stuff the pita.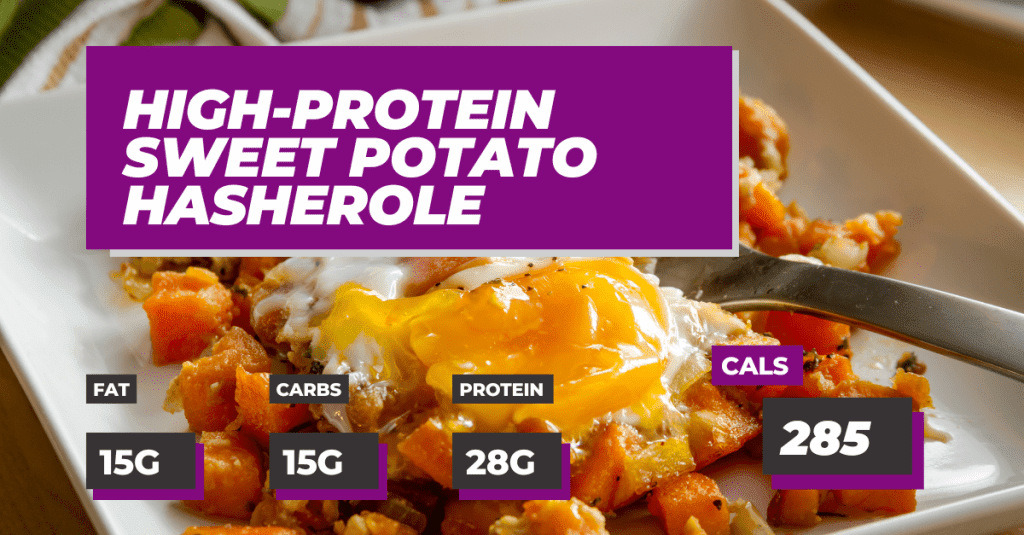 If brunch is more your vibe, then you have to try this delicious Sweet Potato Hasherole! This macro friendly lunch recipe is loaded with nutritious ingredients; fiber-rich sweet potato, diced bell pepper, and onion form the hash brown base, topped with protein-rich lean ground beef and a golden cracked egg center. This super easy lunch is guaranteed to keep you fueled all afternoon!
High-Protein Sweet Potato Hasherole
Calories 285, Fat 15g, Carbs 15g, Protein 28g
Ingredients
75g sweet potato, cubed
84g lean ground beef
Taco seasoning
1 egg
14g 2% Mexican shredded cheese
5g each diced bell pepper & onion
Method
Preheat oven to 375°F (190°C), grease a small baking dish or cast iron skillet, and set aside.
Brown the sweet potato and peppers/onion in a separate skillet. Place them in the cast iron skillet and bake while you do the next step.
Season and brown the meat. Layer on top of the hash browns.
Crack the egg in the center, and sprinkle cheese. – Bake for ~ 10 mins or until the egg is your desired level of doneness (or just broil for a couple of minutes)
Top with a choice of salsa, guacamole, or sour cream (not included in Calories)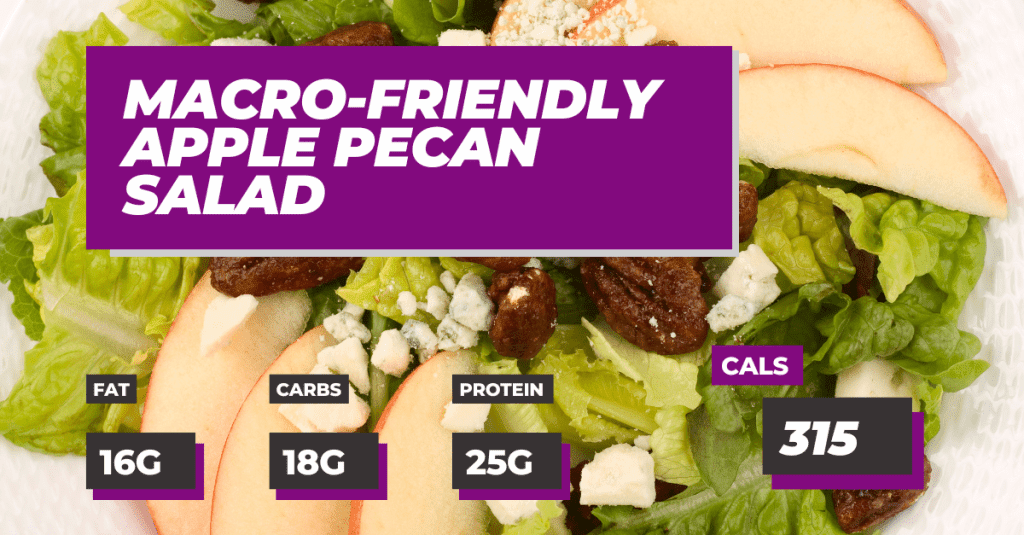 Salads really don't have to be boring, especially when you can indulge in our Apple Pecan Salad! This recipe hits all the right notes with a delicious mix of grilled chicken breast for protein on a bed of fresh romaine lettuce, sweet diced apple, crunchy pecans, little bursts of sweet dried cranberries and crumbled creamy blue cheese. Top with a drizzle of sweet balsamic vinaigrette, this is such an easy but most of all delicious and nutritious lunch time option!
Macro-Friendly Apple Pecan Salad
Calories 315, Fat 16g, Carbs 18g, Protein 25g
Ingredients
85g romaine
84g chicken breast (grilled)
50g diced apple
5g dried cranberries
14g toasted pecan halves
14g crumbled blue cheese
30g Sweet Balsamic Vinaigrette (Bolthouse Farm)
Method
Grill the chicken breast until cooked
Chop up the lettuce and dice the apple
Throw everything into a bowl, add the cranberries, toasted pecans and crumbled blue cheese
Drizzle over the vinaigrette and top with the chicken before mixing together and enjoy!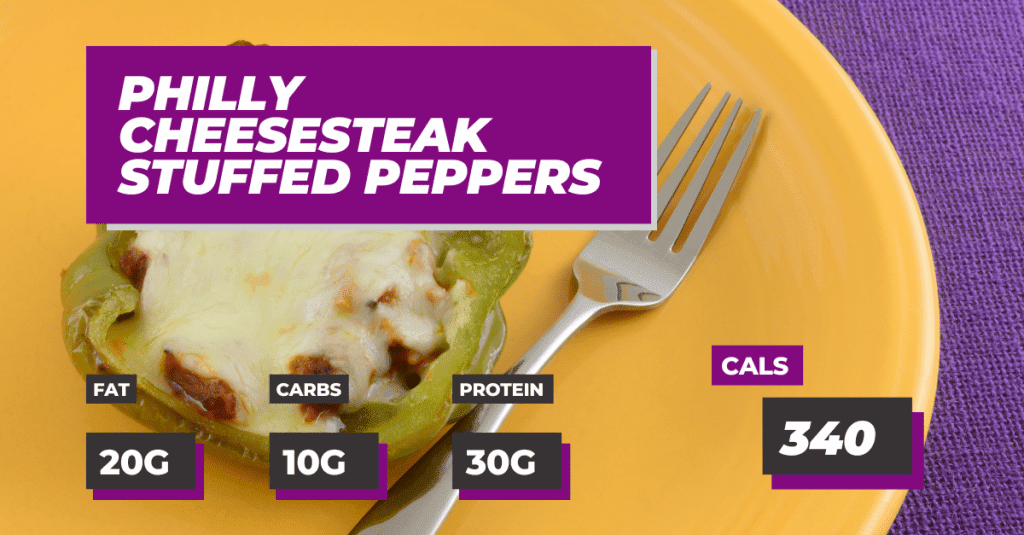 Try our Philly Cheesesteak Stuff Peppers recipe for a quick and easy high-protein lunch time option! Nutrient-rich green bell peppers filled with sliced beef roast, sautéed onions and mushrooms and topped with a light cheese sauce, this dish is well balanced, packed with protein to keep you full all afternoon and will help you hit your macros. Not to mention, it's delicious!
Philly Cheesesteak Stuffed Peppers
Calories 340, Fat 20g, Carbs 10g, Protein 30g
Ingredients
56g sliced beef roast (this is best with actual beef roast instead of deli sliced roast beef)
1 large green bell pepper (about 150g when deseeded)
10g diced onion
25g mushrooms
2 slices provolone
1/2 tbsp (7g) light butter
Method
Preheat oven to 400°F (205°C).
Slice pepper in half lengthwise, remove ribs and seeds. Bake the peppers while you complete the next steps.
In a large skillet, sauté the onion and mushrooms (you can add a splash of broth to the pan for some flavor and moisture).
Slice the beef into thin strips and add to the skillet to brown.
Cut 1 slice of the cheese into pieces and line each pepper half, then stuff with the meat and onion/ mushroom mix.
Bake for ~ 20 mins.
Melt together the rest of the cheese and butter, pour it over the meat before serving.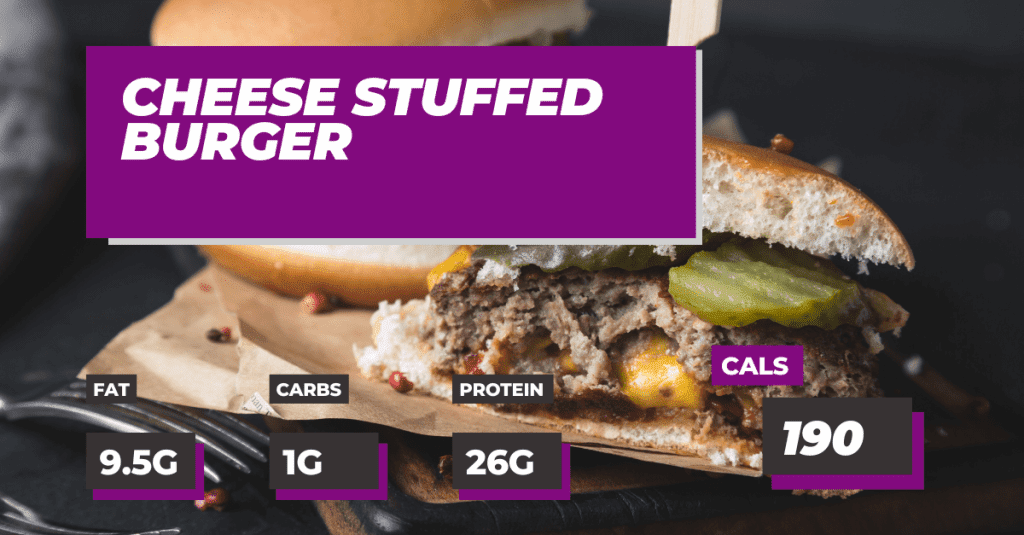 If you are looking for a quick burger fix, then look no further! Our Cheese Stuffed Burger recipe is so simple to make with just two ingredients; protein-rich lean ground beef and Laughing Cow cheese. You can whip these burger patties up in no time and enjoy a delicious melt in the middle burger for a quick protein hit!
Cheese Stuffed Burger
Calories 190, Fat 9.5g, Carbs 1g, Protein 26g
Ingredients
113g lean ground beef (93/7)
1 wedge of Laughing Cow Cheese
Method
Just the burger:
Flatten the meat patty, put the cheese wedge in the center, and form a ball around it. Shape it into a patty once again.
Season both sides and cook for ~ 6 minutes on each side; only flipping once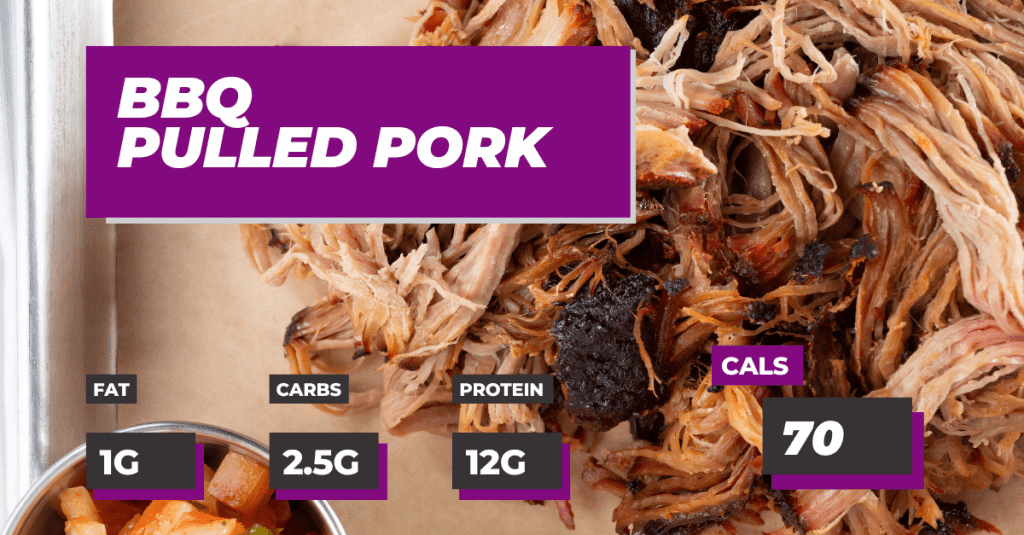 Plan ahead and your future self will thank you by lunch time, with our slow cooked BBQ Pulled Pork recipe! Protein-rich pork tenderloin is coated in a rich and tantalisingly sweet paste of brown sugar, chili powder, garlic and mustard and left to cook in the crockpot for five hours with BBQ sauce. Prep this dish first thing before you go about your day and return home to a deliciously tender and perfectly cooked low-fat lunch! Enjoy with a variety of macro-friendly sides such as our creamy coleslaw.
BBQ Pulled Pork
Calories 70, Fat 1g, Carbs 2.5g, Protein 12g
Ingredients
1 lb pork tenderloin
1 tbsp Splenda Brown Sugar blend
1 tbsp chili powder
1 tbsp garlic cloves
1 tbsp mustard
1/2c (120g) BBQ Sauce (G Hughes sugar free used)
Splash of low sodium broth
Method
In a small bowl, mix together the brown sugar, chili powder, garlic, and mustard. Coat the meat in the paste mixture (it's messy!)
Place the meat in the crockpot and add the broth, then cover it with BBQ sauce.
Cook on low for 4 hours.
Shred the meat with 2 forks.
Stir, and cook on low for an additional hour or so until all the juices are soaked in.
Want to see more macro-friendly recipes like these? Sign up below and we'll send you our FREE cookbook!
Try Our Nutrition Coaching, For Free!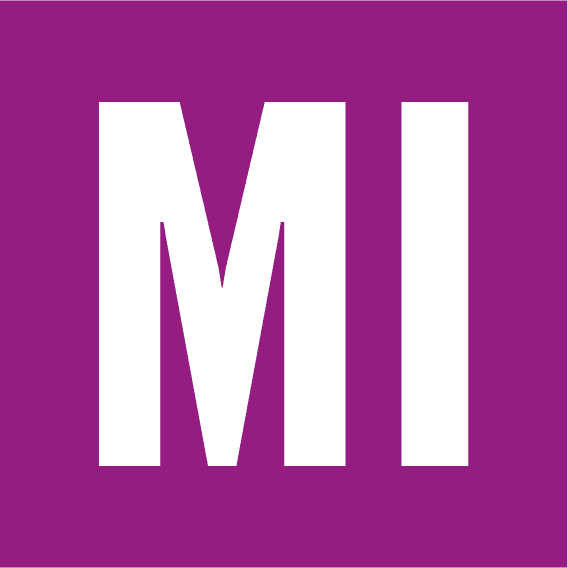 Be the next success story. Over 25,000 have trusted Macros Inc to transform their health.
Start your 14-day risk-free journey and let's achieve your goals together!
Check out our verified client reviews